Happy St. Patrick's Day! Although the holiday cannot be celebrated in the streets of Ireland this year, we have chosen some fun activities for the family to enjoy on March 17th.
How can I have a parade at home?
Although we won't be able to attend parades this year, there is still a live stream opportunity to continue enjoying the fun. https://www.stpatricksfestival.ie/ includes instructions and links to how to watch a St. Patrick's Festival virtually on your TV. Streaming from March 12th – 17th, the entire family can enjoy cultural Irish events ranging from music, dance, history, and more to enjoy. There is even a stream of Kids Yoga at the National Gallery Ireland! Over the weekend and up to March 17th you can enjoy this stream and incorporate other activities into your holiday plan as well.
Games
Leprechaun Hunt:
Similar to Easter egg hunts, you can create a leprechaun hunt for the children. Hide a trail of candies around the house for them to find and maybe a pot of gold! This activity is fun and engaging to get the children moving around and using their imagination.
Roll a Rainbow: Play Party Plan has created some fun St. Patrick's games including "Role a Rainbow". It's very similar to Yahtzee and would be a great game to try out.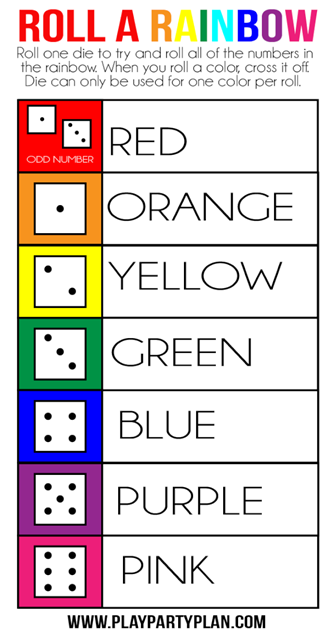 Other Activities
Storytelling: Reading a story to the children about the story of St. Patrick's Day is super fun! Amazon has great children's book choices to entertain, but if you are looking for something even more engaging try some audio picture books. The children's books are read aloud on YouTube and are easily accessible on devices. Here are some great options:
Movies: Enjoy a movie night with some family films about Irish culture.
Song of the Sea – YouTube, Apple TV+, Amazon Prime Video, Google Play
The Luck of the Irish – Disney+, Hulu, Sling, fuboTV, YouTube, Google Play
Darby O'Gill and the Little People – Disney+, iTunes, YouTube, Apple TV+, Amazon Prime Video, Google Play
The Secret of Kells – YouTube, Apple TV+, Amazon Prime Video, Google Play
A Shine of Rainbows – YouTube, Apple TV+, Amazon Prime Video, Google Play
Magical Legends of the Leprechauns – Pluto Tv, Tubi
Food
Try cooking or baking a traditional St. Patrick's Recipe with the family without the stress of guests coming over. Irish Soda Bread is a classic treat that is easy for the children to make with you and there's plenty of options online as well. Perhaps cook a corned beef and cabbage for dinner to truly celebrate the Irish way.
Relaxation
If you are looking for some relaxation, here are our top relaxation tips for all the family.
Celebrating the History of St. Patricks
Educating children on the history of St. Patrick's day teaches them about their Irish roots. Videos are an engaging way to teach them, but telling them about the stories you grew up hearing are also good options. There are many resources online and incorporating activities about St. Patrick's day will educate the children as well.
St. Patrick's Day won't be the same this year but we hope you enjoy some at-home activities to celebrate!
By SureSitter